TheLotter Lottery VIP Club
TheLotter launched VIP Club, geared at providing you with unique offers and discounts to upgrade your experience by playing lottery online.
Please enjoy first-class service and personal account management, and receive exclusive VIP offers!.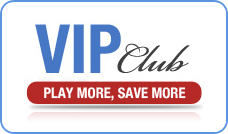 Every time you purchase any lottery ticket or you are using any services at the
theLotter
you will accumulate more VIP points. The more VIP points you earn the bigger your
DISCOUNT
on playing the lotto games will be.
VIP Club is ideal solution for regular players as, you can save up to 20% every month by participating in top lotteries with a one-time entry, susbcription or multi-draw.
When you play more - you save more!
TheLotter's
VIP CLUB
offers constant
discounts
, which grow
bigger
as your VIP level advances.
Every time you purchase a lottery ticket using theLotter services, your account on the site is credited with VIP points.
The amount of points is derived from the cost of your lottery ticket purchases.
1 VIP point for each US$ 1,-.
As you gain more points, your VIP level advances and the constant discount on all your future purchases at theLotter increases respectively.
Online Lottery Ticket Savings

Please play your favourite lottery games and take advantage of amazing savings on the tickets purchases! VIP members save up to 20% on all lottery tickets purchases, on top of multi-draw and subscription discounts.

Exclusive VIP Lottery Promotions

VIP Club members receive special promotions, offers, and discounts. You will also receive deals on the world's biggest jackpots exclusively for VIPs! VIP members also receive messages, emails, calls, or SMS concerning current lottery offers.

Personal Account Management

VIP Club members get 24/7 priority lottery assistance, from our dedicated team of lotto professionals, as part of our outstanding service package!
Lottery VIP Club consists of five levels
Each level offering a definite constant discount.
Your level is determined by the total of points accumulated within the last three months of your lottery activity.
You receive a monthly update concerning your VIP status, as well as how many points you need to gain by the end of this month, in order to move to the next level.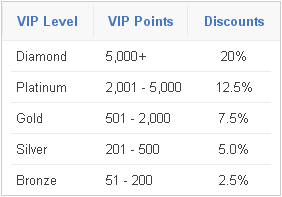 How to earn more VIP Club points
To earn more VIP points, just have fun and be more active on the buying of lottery tickets, which also will increase your chances to win the numerous lotteries prizes.
Activities include:
Purchasing of one-time lottery tickets. Please read FAQ and browse support tab if you are new client to theLotter.
Earn points by playing your favourite lottery games using bundles, where you can combine personal and syndicate entries.
Earn more points by using Syndicate option. You couls boost your winning odds with group play.
The total of points you accumulate within the preceding 3 months of activity determines your VIP Level:
Bronze, Silver, Gold, Platinum or Diamond.
You need to accumulate a minimum of 100 points within past 3 months, to become member of VIP Club. Once you gain 100 points, you will automatically join the Bronze Level and enjoy all the benefits it offers. Till then your customer type, in your 'My Account', will show 'Regular'.
To participate in the
VIP Lottery Club
discount program, you must be a registered member and have opened an account.
As a new member, you will receive
free lottery ticket as welcome bonus
.
Please visit the link below, choose your favourite lottery game, buy one lottery ticket, get second free, and you have done. You have your personal account now and can start earning VIP points. Good Luck!
Quick Menu