History of lottery

The history of lottery began probably back around at 100BC, when during the Hun Dynasty in China, Keno game was introduced for the first time. As we know from modern times, funds raised from lottery and lotto revenues are usually used to fund public beneficial projects. With this mentioned ancient Keno game was the same story.
This is very interesting to notice that the funds raised from the first Keno lottery game was used to finance the construction of the Great Wall and other defense expenses in China. Other ancient civilizations also used various versions of lottery games to fund various state programs.
The Ancient Romans were the first to use lotteries. At circuses, emperors threw numbered pieces of parchment into the arena. Those who grabbed such pieces, presented the winning "ticket" numbers to claim prizes, either privileges or exclusive goods, such as precious vases or horses.
During Augustus Caesar's reign, lotteries was used to raise the funds to repair the Rome city. Lottery tickets were sold and the prizes were different physical objects of distinct value, instead of cash.
The extravagant Roman Emperor Nero, have used lotteries to dispose of jewelery, gold, silver, and even villas at Capri and batches of slaves. In that time, slaves were brought into Rome, to rebuild the city after it had burned to the ground.
Various Roman nobles also conducted sweepstakes, usually at dinner parties. Lucky winners of such parties, collected hogsheads of wine and even sometimes horses.
Then comes European merchants, who discovered that they could make more in profits. How? Well, they auctioned off their expensive goods as prizes in lottery drawings.
The first recorded use of lotteries to raise public revenue in medieval times was in 1434, in Sluis (the Netherlands). Profits were used to strengthen the town's fortifications. Around 1444 in some other Flanders towns, existed first lotteries which gave away prizes in cash.
The city of Bruges in 1466 have organized first lottery event with monetary prizes, and profits went to the poor. A Parisian lottery in 1572 provided dowries for impoverished, but virtuous young women.
Lotteries became so successful in France that the people refused to pay taxes in lieu of investing in them.
Later on, in 1569, there was first state lottery, instituted by English Queen Elizabeth I and the prizes were goods like plates, tapestry, etc, and cash, as well. It was a massive affair: 400,000 tickets were sold at ten shillings each for a first prize of £5,000. To attract as many punters as possible, hundreds of other prizes were offered varying from free library access to immunity from arrest for seven days, except for major crime.
After that, English government had sold the rights of selling lottery tickets to brokers. They hired agents to sell the lottery tickets to the masses. After 1826, when parliament finally approved the state lottery to go, many forms of lottery games were introduced, invented and established.
Some other famous lottery cases are the one held in 1753 to help build the British Museum or found in the same year French Lottery called Loterie Nationale Français. Founders were Casanova and king Louis XV. Sooner in 1726, the Netherlands formed the oldest lottery game in the world that is still in operation.
In 1700s lottery came to North America. A century earlier than poker as that was first played in New Orleans, Louisiana in 1829, with online poker following in 1998. Back to lottery: Benjamin Franklin financed cannons for the war using raised lottery money. Another Virginia based lottery was operated by George Washington to finance construction of roads to the west.
In twentieth century, we could see the revival of lotto and lottery. The first was the Queensland State Lottery of Australia in 1917, followed by the Irish Sweepstakes in 1930. Gambling was legalized back in 1969 in Canada, by giving provinces the permission to operate lotteries and casinos that gave the proceeds to religious or charitable causes. Provinces of Quebec and Manitoba released the first Canadian lotteries in modern times. The US state New Jersey quickly followed with a state lotto game with tickets then cost 50cents each.
In 1973 something interesting happened. The Olympic Lottery Corporation of Canada used the lotto as a way to fund the 1976 Olympic Games, to be held in Montreal.
In fact lottery is a game of chance and a form of soft-gambling, using draws of numbered lotto balls for a prize, usually cash. In the early days of lottery existence, most of the forms of gambling were outlawed. Only from 1960s we could see the great comeback of various state lotteries, sweepstakes, casinos and other gambling venues, throughout the World.
In 1999 in the United States, 37 states and the District of Columbia had their own state lottery games, already. As well, lottery are legal in every Canadian territories and provinces. There are more than 100 main lotteries around the World, usually state ones. National lotteries are very common in Poland, Mexico, Japan or France, to name few countries.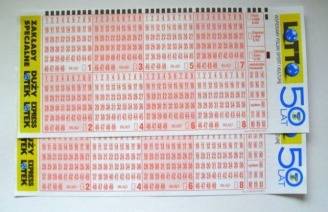 On the picture above: Blank coupon/play-slip of Polish lottery game called
Poland Lotto
, used by local players to choose their favourite unique winning numbers.