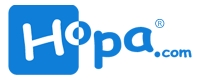 Disco Keno Scratch Card Game
Disco Keno scratch card is filled with funky music, glamour, and winning chances. This scratch card game is a modern and joyfull alternative to traditional bingo and keno games. Disco Keno is a great mixture between a keno game and a bingo scratchcard.
Get 15 matching numbers and win the grand prize !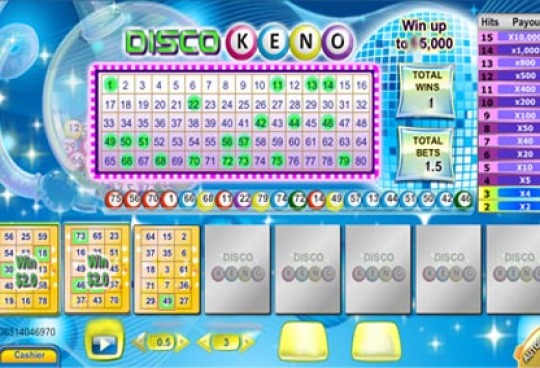 Let us see the example of real play, as seen above. In this real game example, the Disco Keno scratch card game player, chooses to play 3 cards.
The two left cards are winning cards; the left one has 2 matching numbers so the winnings are the "card price" multiplied by 2, and the other winning card has 3 matching numbers so the winnings are the "card price" multiplied by 4.
The total winnings appear in the 'total wins' box and added to the players balance.
Disco Keno Scratch Card Basics

Disco Keno scratch card has adorable key features you must look for in an online gaming site like :

disco-like colourful graphics with giving a lot of joy and excitment keno designed scratch card
modern funky music that will make you dance while you play the game
really simple to follow rules and procedures makes this game easy to play
choosing lower wager you may play this game for hours, having in mind that there is a 1 in 3 overall chance in winning
or with higher wager you may win a huge jackpot of up to £200.000

To begin a Disco Keno scratch game you have to set a price (wager, stake), then you will be able to select the amount of cards you would like to play.
Did you know that Disco Keno scratch game lets you play eight different cards? What is best about it is that it does not compel you to purchase all 8 cards, but you can choose how many cards you are willing to place a bet on.


Of course, the more cards you play, the higher your chances of win and getting your desire prize.
Now click the "Play" button, to make the big cage spin a bit and release all the multicoloured balls. If you will press the "Turbo" button, then the balls will come out much more rapidly – good for lovers of rapid action players!

You will have to check the numbers that are being drawn out. If you obtain two match numbers in one card, then consider yourself a Disco Keno winner. Now, if you are able to match fifteen out of the twenty balls drawn out, then you qualify for the big prize: an unbelievable £200,000 jackpot! But, in order to get this prize, you must have wagered £20.

For sure, this bingo scratch card has never been as thrilling and exciting as it is now with Disco Keno online scratch card and has brought extreme joy and pleasure to many players and scratch card belovers already.


How to play Disco Keno Scratch Card Game step by step
Set the card price you would like to wager by clicking on the + and – signs on either side of the card price box.
Choose the number of cards you would like to play by clicking the + and – signs on either side of the number of cards box. The selected cards will be revealed after you click on the 'play' or 'max cards' button.
Click on the 'max cards' button in order to play the maximum number of cards (8) in one game. The game will start immediately.
Click on the "play" button to spin the wheel and release the balls.
Click on the "TURBO" button if you wish to release the Keno balls quicker.
The keno machine will draw 20 random balls. In order to win, you need at least 2 matching numbers in a single card.
To play a new game with your previous choices, simply click the 'play' button to keep the same bet amount and current choice of cards.
If you wish to start a completely new game, re select the number of cards and bet amount, and click the play button.
How to read the pay table: To calculate your winnings for each card, simply check how many hits you have on this winning card and multiply your bet on this card with the highlighted figure in the paytable.
Your total winnings in all selected cards will appear in the 'Total Wins' box according to the paytable and will be added to your account balance.
Bonus $ 5,- FREE for You !
As a newcomer to Hopaa.com, you will receive welcome bonus of $5,- (no deposit required). So , you will enjoy playing for real money, right from the start of your journey with exciting scratch cards games. Enjoy ! and
Good Luck
!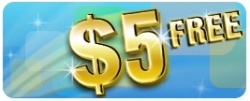 Please go Back to
Hopa.com
where, you can discover other featured games and more informations about Hopa brand. You should know that, at Hopa.com are available over 50 various scratch cards, scratch slots, slot games and instant games.
You may also go Back to
Scratch Cards
where, you can discover Hopa.com's sister sites, like
Scratch2Cash
and
Karamba.com.
Each site offer the same range of exciting scratch play. As well, you will get $5,- free real money play, separately on each site. Enjoy!

Hopa. com – Enjoy over 50 entertaining and exciting online scratch card games. FREE bonuses! NO download required! Hopa.com is the #1 online scratch card game website with fun and thrilling online scratch cards for all genders and all player communities.
Among our game offerings are scratch cards of casino, sports, fantasy and bingo games with instant access to FLASH technology, so NO DOWNLOAD required.
Our freshly designed games allow maximum fun and entertainment with highest winning chances and 95% payouts.
On Hopa.com everyone is a WINNER!

We allow unlimited practice play in over nine different countries worldwide, as well as, offer non-stop customer support in all major European languages. Players are guaranteed a 100% bonus on their first deposit and get constant incentives with more surprises.

There is a 1 in 3 overall chance in winning and Jackpots from €200,000 to €1 MILLION to be won all day, every day!
---
Tags:
lottery , lotto ,
Karamba.com , Karamba , scratch card , scratch games ,
euromillions
,
scratch game ,
games
, scratchcards
,
powerball
,
scratch cards
,
scratch play
,
scratch cash
,
online scratch cards
,
free scratch cards
,
Hopa.com
,
Hopa